Students at Tamale Presbyterian Senior High School (PRESEC) in the Northern region have expressed their profound gratitude to the management and staff of Breast Care International (BCI), a breast cancer advocate NGO, for schooling them on breast cancer, a disease that has been a threat to the well beings of Ghanaian women.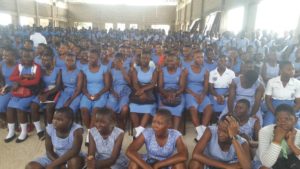 According to them, though they have heard about the disease, knowledge about it causes, prevention and control were not known to them, and the education they have had will helped not only to themselves, but to tell families about it when they go home.
The students made the revelation to Otec News' reporter Francis Appiah after the staff of Breast Care International (BCI) and Peace and Love Hospital in Kumasi organised a free breast cancer screening and education to them at the school campus on Monday, September 24, 2018.
The BCI team, led by its president, Dr. Mrs. Beatrice Wiafe Addai, was part of activities programmed prior to the 8th edition of BCI Walk for the Cure 2018, slated for October 27 20118 in Tamale, the Norther regional capital.
The annual event, which started in 2011 in Kumasi, is designed to create an awareness of breasts cancer, a disease which according to health statistics, kills a woman in every 69 seconds somewhere in the world.
The students, numbering about 2,000, were lectured on the risk factors, the signs and symptoms, method of investigations and diagnosis and the mode of treatment of the disease, by Dr Wiafe Addai.
According to Dr. Wiafe Addai, breast cancer affects across all ages and colour, hence the need to give them (young ones) the education as a guide to live their lives on, and also to pass on the information to families back homes.
She said one of the major cause of breast cancer is lifestyle, though there are other risk factors like family history of breast cancer, and therefore cautioned them to desist from excessive alcohol consumption and smoking,
"As at now we do not know the causes of the disease, what we can do is to live a healthy lifestyle such as exercising regularly, frequenting the hospitals periodically to examine the breasts and avoiding fatty foods, smoking, too much alcohol consumption," she cautioned.
She concluded that "the disease is curable when detected early and reported to the hospital.
Source: otecfmghana.com/Francis Appiah